About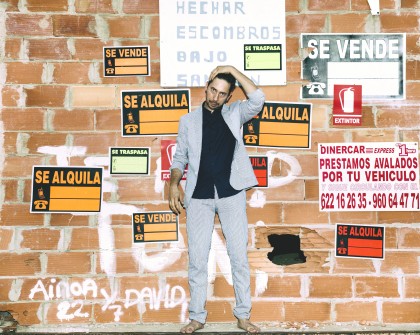 Pic. Arnau Pascual Ledesma
Discography
Cream Parade (LP/CD) Igloo Records (2019)
Kermesse Machine (LP/CD) Igloo Records (2017)
And if we were all rich (Single Digital) Igloo Circle (2020)
Cream Parade Remixes (12" maxi) Le pacifique Records/Igloo (2020)
Coltan Major Harmonics (7") Igloo Circle (2019)
Tchouang Tseu (7") New Pangea (2015)
"Manu Louis is a Belgian with a subversive spring in his step" BBC
"The Braggart of Kitsch" Libération

"More colourfull than a unicorn vomiting a rainbow" Gonzai
"Pop fantastique et Fantasque" France Culture
"The Stromae of the Underground" Le Soir
"Der Iannis Xenakis des Dancefloor" Skug
Belgium born, Manu Louis travels with a village of electronic instruments and video projections from pop stars or animals to deliver passionate performances that eventually switches gears into an impromptu discotheque.
His music mixes high and low culture to create provocative and decontextualized juxtapositions. His general blueprint remains the same throughout all of his efforts, but the ingredients he uses may vary: from dissident chanson française, genial dilettante, avant-garde composer, new beat, old hit, art-pop & hard bop.
Cream Parade, his new album is a disoriented walk led by synthetizers. It was released in May 2019 on Igloo Records and followed Kermesse Machine (2017) his first album. The last three years Manu performed at over 300 festivals and clubs across Europe and Asia.
Recent collaborations include : visual artist Escif, digital punk Systaime, animation movie maker Mathieu Labaye, director Dacio Pinheiro, Garrett List'30 piece chamber Orchestra Orchestra Vivo, Chinese singer/composer Song Yuzhe (Dawanggang), teenage nervous breakdown singer Carl Roossens and his band Les hommes boites, Spanish instrument builder/musician Truna, sexy BPM duo Front de Cadeaux, dub wizzard Too Smooth Christ and extra normal gentleman Lumpen Nobleman.

Live : Les Sessions du Bourdon
(The Screen & Internet)
Video directed by Pablo Lopez
May 2019
Playback (live at Botanique)
Solo Show
November 2016
A treasure (live)
with Orchestra Vivo (dir. G.List)
Liège 2012