News
To join the mailing list, just send an email at  louis@louislouis.org
Kermesse Machine, Manu's new album is to be released in may in Germany, France and the U.K.
Here are the first Reviews and Interviews:
– L'invitation, RTBF – Interview+Concerts, Video (Fr) (+)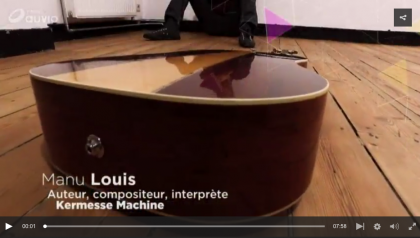 – Air TV – Interview, Video (Fr) (+)

– Le Focus Vif  –Interview (Fr) (+)
– Le Radar, PURE FM  –Radio, Presentation (Fr) (+)
– Michel Preumont, Blog – Album review (Fr) (+)
– Les promesses de l'aube, Radio Panik – Interview, Radio (Fr) (+)
– Midi Express, Radio Campus – Interview, Radio (Fr) (+)
– De Subjectivisten – Album review (Ndl) (+)
– Bodyspace – Album review (Pt) (+)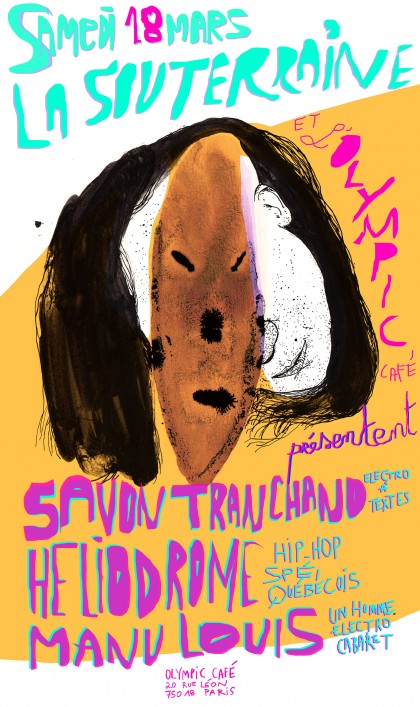 Before the release of his new album in France (the 28th of april) Manu will come to the land of Descartes for a first mini tour (the tour actually starts with Brussels (Café Central) and finishes with an opening for a big techno/drums and bass night in Hamburg@MS Stubnitz).
Among those dates feature a special night "La souterraine" in Paris (see poster) and a Linge records evening in Montpellier.
14 mar // BRUSSELS (Bel) – Café Central
15 mar // LILLE (Fr) – CCL (+Hassan K)
16 mar // MELLE (Fr) – Le Café du Boulevard
18 mar // PARIS (Fr) – L'Olympic (soirée Souterraine)
21 mar // MONTPELLIER (Fr) – Blackout (+Natyotcassan)
22 mar // MONTPELLIER (Fr) – CDHTH (Org. linge record) (+ Balladure)
23 mar // PARIS (Fr) – Les balades sonores
24 mar // HAMBURG (Deu) – Ms Stubnitz (+Big techno/D&B night)
more infos in the concert section
– For any request of interview, review etc. about the new album in France you can contact: La Mission (Lucas) : conciergerie(at)la-mission.com
To join the mailing list, just send an email at  louis@louislouis.org
Here we go again: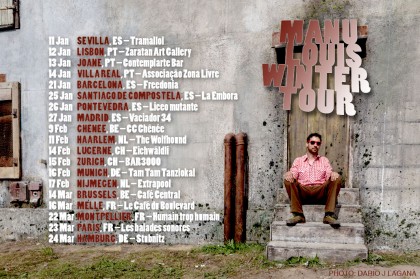 11 jan // SEVILLA (Esp) – Tramallol
12 jan // LISBON (Pt) – Zaratan Art Gallery
13 jan // JOANE (Pt) – Contemplarte bar
14 jan // VILLA REAL (Pt) – Associação Zona LIvre
20 jan // NAMUR (Bel) – Théâtre de Namur (with Orchestra Vivo)
21 jan // BARCELONA (Esp) – Freedonia (org. Detakon)
25 jan // SANTIAGO DE COMPOSTELA (Esp) – La Embora
26 jan // PONTEVEDRA (Esp) – Liceo mutante
27 jan // MADRID (Esp) – Vaciador 34
01 feb // BRUSSELS (Bel) – Botanique (Propulse, Private Show))
09 feb // CHENEE (Bel) – CC Chênée
11 feb // HAARLEM (Ndl) – The Wolfhound
14 feb // LUCERNE (CH) – Eichwäldli
15 feb // ZURICH (CH) – BAR3000
16 feb // MUNICH (Deu) – Tam Tam Tanzlokal
17 feb // NIJMEGEN (Ndl) – Extrapool
14 mar // BRUSSELS (Bel) – Café Central
16 mar // MELLE (Fr) – Le Café du Boulevard
22 mar // MONTPELLIER (Fr) – Centre dramatique humain trop humain
23 mar // PARIS (Fr) – Les balades sonores
24 mar // HAMBURG (Deu) – Stubnitz
Pre Christmas Tour. 15 concerts in 18 days in Belgium, Germany, Poland, Lithuania, Latvia, Estonia, Sweden, Hungary, Austria and Italy. 11 new songs among 25.  Thanks to spread the word!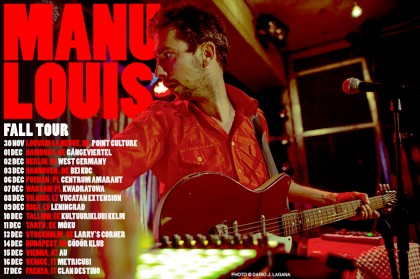 More infos in the Concert Section
30 NOV  LOUVAIN LA NEUVE (Bel) – Point Culture
01 DEC   HAMBURG (Deu) – Gängeviertel
02 DEC  BERLIN (Deu) – West Germany
03 DEC  HANNOVER (Deu) – Bei Koc
06 DEC  POZNAN (Pol) -Centrum Amarant
07 DEC  WARSAW (Pol) – Kwadratowa
08 DEC  VILNIUS (Lit) – Yucatan Extension
09 DEC  RIGA (Lv) – Leningrad
10 DEC   TALLINN (Est) – Kultuuriklubi Kelm
11 DEC    TARTU (Est) – Möku
13 DEC    STOCKHOLM (Swe) – Larry's Corner
14 DEC    BUDAPEST (Hun) – Gödör Klub
15 DEC    VIENNA (Au) – Au
16 DEC    VENICE (Ita) – Metricubi
17 DEC    FAENZA (Ita) – Clan Destino
Manu's november concert @Botanique, Brussels is now completely on youtube.
Edit: Dacio Pinheiro, Camera: Lionel Ravira & Mathieu Haes,  Sound : Alex Davidson
You can now listen/buy Kermesse Machine on Deezer, Itunes, Amazon and Spotify.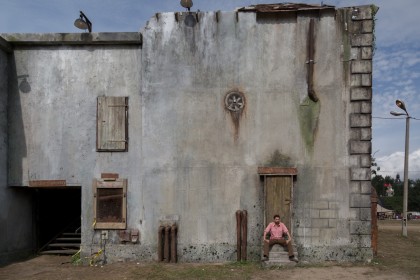 Picture by Dario J Laganà at Fusion Festival
Long awaited first LP/CD Kermesse Machine is almost out in Benelux on Igloo Records
The official released date is the 28th of october. But you can already listen and pre order it at a special price (just for one week):  Here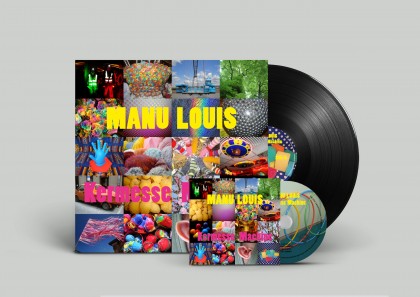 The release concert (for Benelux) will be at Orangerie, BOTANIQUE, Brussels, the 4th of november (double bill with Jacques).
We highly recommand you to book your tickets in advance.
Infos and tickets : Here
About Kermesse Machine:
Recorded in Berlin, Brussels and Rome, "Kermesse Machine" mixes the exotic and glamorous pop of Manu's childhood with the cheap sounds of Belgian popular music that he always did his best to ignore (brass bands, Euro Dance, industrial trance, synth music for wedding parties…).
The former singer of Funk Sinatra defines his record as "a mountain of plastic littering the streets the day after a party, a digital tropical marching band, a man that gives his all at a karaoke session as there is nowhere else to sing, a virtuoso gypsy playing synth using the sound of a trumpet".