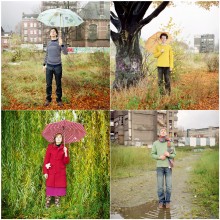 Play some Music about your Garden
(Homerecords.be, 2008)
Emmanuel Godinot : Flute
Martin Lauwers : Violin
Marine Horbaczewski : Cello
ManuLouis : Voice/guitar
Words and Music : Manu Louis
Rec: Flavio Marreda
Mix/master : Michel Van Achter
Add. voice (2,3) : Mr Diagonal
Picture : Marc Wendelski
Music for Garden / 2007-2009
"...a bit like in good old Mozart's day, you could invite a chamber group into your Garden."
Odémon Latour Lejeune
Louis created a little chamber group to perform music in and about Garden. For three years they played on the grass only and released an album.
Alternating invigorating softness and savage flights of fancy, "Music for Garden" concentrates all that one would wish to find in a garden: a singing butterfly (Papillon! Mais Vous Chantez!), a dead bird (Damned! Un Oiseau Mort), a sex maniac gardener (Gardening with Love), an accidental goldfish murder (les Mémoires d'un Poisson Rouge), a plaster (Sparadrap). Floating on a fresh and elegant music that few would hesitate to call "baroque pop".
film : Lionel Ravira
lyrics
Waaaaahhhhh
I am the midnight Queen, let's go in that big adventure
let's go, let's go, let's go, let's go
Wahhhhhhhh
We'll find a treasure in this garden, I can swear it
We don't need a map, we don't need to know where to go
Let's make holes and holes and holes, big holes
We will find, a treasure in this garden mister Parker
Maybe under the tree mister Marker! Let's cut that tree down mister Snooper
No! We'll cut that tree mister Father! We'll cut every tree, if I need to!
Wahhhhhhhh
Could it be under the garden hut?
Well I know It's yours Pateker and I'm sorry
But we don't have the choice
Justice want this treasure for Wednesday
Let's ruin this old shanty
Let's ruin this old shanty
I always found that dump unpleasant to see, now
let's dig in (dig in!)
let's dig in (dig in!)
let's dig in (dig in!)
let's dig in (dig in!)
now There is no grass anymore
and we didn't found a core
Most of you would give up now! but me...
I'm in love,
I'm in love
I'm in love with you treasure
I'm in love,
I'm in love
I'm in love and I'll find you wherever you are
Wherever you are Baby
Wherever you go Honey
Wherever you sleep Sweety
Whatever you do, I find you, I find you
You see Flipper, I know exactly how to hide a treasure
and I must say unfortunately for you, I think you know it too
You have the treasure Gamer, I know it and from the beginning I knew it.
You know I never fail Palmer
You are gardening with us
You are gardening with us
Now we're gardening with love
I want to garden all alone with all alone with alone with you
But we're gardening in a group
And they'll garden until night
I ask the boss if we could work tonight with the daisies in teams of two
He says why not you'll go with Pete and for the roses Stanley'll go with Sue
Bees come back, since you are here
Trees smell good in the valley
I want to garden all alone with all alone with alone with you
The garden is like a dream
Every gardener should scream
My heart is so warm, I could light a huge fire and burn all the dead leaves
I want to scream loud enough for plants to hear that I'm in love with you
I scream the loudest I can do
(Hey gardener! Are you in love ?)
Yes I am, yes I am
I want to garden forever yes forever yes forever with you
Your Pollen will give a frame
For our work to get a name
I think it's only possible if you decide to come gardening with me, gardening with me
I am the best for begonia, we could become the gardeners of the year
Life is beautiful in earth
I thought I only loved flowers!
I will garden yes much faster yes much faster yes much faster for you
Now my rake is like a snake
They call me "golden shovel"
We'll have our garden, you like orchids we'll plant kiwis and cook daisies for breakfast
We'll sing a song for plants to come and cry a tear for trees to live and fruit will all be free
We'll make coffee with lilac tree and drink lily with bumble bee and be a blueberry
You'll make honey with the pansy you'll be my bee, my lovely flea, you'll fly my little sky
Papillon! Mais vous chantez!
Papillon! Mais vous chantez!
Oh Papillon! vous chantez!
J'en ai la chair de poule!
Quelle expressivité
La nature,
Chante avec vous!
Chante avec vous
Chante! Oh chante!
Normalement
ça n'arrive que dans les contes.
Et si notre vie n'était qu'un conte!
Papillon! Mais vous chantez!
Ne vaudrait-il pas mieux vous prémunir contre la grippe?
Poisson rouge, tu ères dans la terre maintenant
Il est temps de retourner en mer
Mais la mer est si loin, tu ne vas pas bien vite
Que fais tu dans notre jardin ? Ouste, Ouste
Mais qu'attends tu la pluie ? Elle ne tombera point.
Cherche dont plutôt ton eau intérieure
Quand je bois un verre d'eau et ressens la pluie
A l'intérieur de mon corps
Toi tu bébète et fais pâle figure
Mon ami couvres-toi tu refroidis si vite….
Venez tous ici, regarder cette joie,
C'est l'ami du soleil
Il sèche a vue d'œil, le petit gringo
Soulignons son courage
Ne sommes nous point tous un peu comme ce vilain
Et non pas du tout
Tu as choisis ta voix et j'ai choisi la mienne
Advienne que pourra!
The bird is dead
The bird is dead
Oh the bird is dead
For a long time, I couldn't hear no coui coui anymore
And now that I see him lying cold on the grass
The verdict is clear, mister Parker
That bird is dead
Damned, Damned, Damned, Oh Damned
I know who did that, but I just can't remember
I wrote it here, can you read it mister Pakers? I haven't my monocle
You can't be the murderer mister Pacekers!
You stayed with us day and night
You didn't kill the bird mister Barber, did you?
Mister Paper did you see that bird before he died?
In that case there is no doubt mister Popers
You are the murderer mister Flowers
You have the right to stay silent and call the inspector me mister Painter
From the beginning, I knew it
Even if Parker was my old assistant
I always realised he was never himself when he was in a garden
And this, unfortunately happens very often, with many people
Even with people like you
I don't mind saying this, I don't have any good feeling with you anyway
Courons l'après midi dans l'herbe
Cherchons les sentiers
Ils courent les hommes nus pieds
Ils portent les petits souliers en main
Alors heureuses ?
Aux dames de courir maintenant
Il va falloir faire mieux
La première arrivée au buisson
Portera la couronne de carton
C'est l'heure des petites rondes exquises
Et on tourne, tourbillonons
Les femmes conduisent la ronde
Et les hommes s'inclinent humblement
Savourons
On prend de la vitesse
Et puis on ralenti
Pour ne point sur le lilas tomber
Ou se fracasser crâne contre une pomme de pin
Ode, ode à la fantaisie
Tournoyons la pelouse. Festoyons
Mille surprises nous attendent, attendons
Ode ode à déculpabilisation
C'est l'heure de la partie de crocket
Le perdant sera châtié.
Ferdinand, vous perdîmes
Châtions! Châtions!
Lançons lui graviers
Nos graviers lançons
Sur tête, nos ordures vidons
Entourons de papier de toilette le vilain
Dessinons lui une moustache. Dessinons
Les oreilles de Mickey, voilà bonne idée
Plaçons sur ça tête les
Une queue de chien. La queue lui collons
D'amusantes lunettes sur ses yeux plaçons. Plaçons
Autour de lui dansons, comme les indiens
Dîtes-moi Geneviève, pour accompagner cette danse,
ne pourriez de votre roseau nous jouer ?
Charles ! Oui madame. Tirez ces oreilles,
bleu qu'elle deviendront. Partageons.
Le miroir amener. Pour qu'il s'appercevisse
Plaisantons, plaisantons
Et les coups de cannes sur le gredin donnons
Canaillons, canaillons