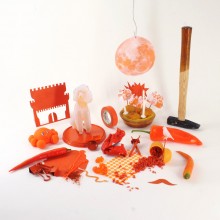 Season 5, Chic et poli
(Homerecords.be, 2008)
Emmanuel Godinot : Flute/Clarinet
Martin Lauwers : Keyboard
Anne Gennen : Sax/Voice
Manu Louis : Voice/Guitar
Jean-François Debry : Bass
Didier Fontaine : Drums
Words and Music : Manu Louis
Rec/mix/master : Michel Van Achter
Musical direction : André Klenes
Add. Voice (7): Mister Diagonal
Vidéo : Jonas Luyckx/ La film fabrique
Picture : Please let me design
Funk Sinatra' Season 5 / 2008
Chic et poli
« At last a truly distinguished rock and roll band »
Pepito Manzanas

The knights of the fantastic decalogical saga conceived by Manu Louis are back with "'Chic et Poli" : The rock and roll/twist season. A hallucinogenic evening in a castle awash with north sea surf pop and easy listening serves as pretext for the secret meeting of several gurus, an insalubrious rock group, a german boogie-woogie band re-trained in Mexican restaurant music and the mysterious Sauzé Sawzé and his holy bracelet.  The energized and exalted "Funk Sinatra" here appears in an unexpected instrumentation: baritone sax, bass clarinet, keyboard, bass, drums.
lyrics
When I woke up this morning I had the blues
I Can't remember last night as everyday about that time
Let me show you where I work in a 5 stars restaurant, owned by the king
Where I have to play those songs over and over and over
They say "With your Mexican songs everything tastes more spicy arriba!
I was born in Luxembourg the spiciest thing I ever ate was that creamy cheese with coffee
Ok let's have a little roll and rock burger
You are here to make them eat, also keine lieben sung
Ok this is my band they all are Germans that's right
Together we used to play Boogie woogie, in a band called "bang bang bang"
I'm sorry but we really have to play now, we really have to play now
Ok folks put on your moustaches… Natürlich… Arriba…
"We can cook another song for you, hope you won't mind"
They say "Why don't you play the one we like, the one you played yesterday, the one that goes mexico, mexico"
Ok it's half past six, it's really time to go to bed now
Sorry, to interrupt you, but you don't hear anything?
It's this song again, are you sure you don't hear anything?
You know the one that goes dadadadididoudouda dadadadadadididoudoudada
Every night when I go to bed a neighbour plays this for me
No I'm sure it's real, now listen, dadadadidididoudouda
I don't know why they play that funny joke on me Arriba
Listen I'm not nuts, that's not only in my head
Listen again, dadadadididoudouda dadadadididoudouda
dadadadididoudouda dadadadidi

I… feel a bit lost at this party
But there's only kind people here
It's such a nice reception
but I miss something now
I need an uncle
The kind of uncle who can teach me something I do not know
and you could be that uncle, Patrick, mine is dead
We'll speak hours and hours about you
All you have to do is to speak, as much as you can. Wouuuuuu!!!!
to teach me everything you know, and how
was the life of people who made the world?
What's that new kind of wave,
you made in the eighties?
More more more more I want to know more.
What about the Shoegaze?
The little rabbit on your shoes?
Those voodoo snakes on your arms?
This lovely ring of fire?
Patrick you're the best! uncle uncle
And Tarantella! Oh lord, oh Tarantella yes she's the one!
I've never met anybody as lovely as her!
She is the queen and you're the king
She is the cream and you're the pie
She is a Homebody and you're a fairy
She is my Mom and you're my Dad
no no no no don't worry I didn't mean that
You make me twist ! Hoooooooooooooo
You make me twist ! Hoooooooooooooo
And I'll dream of you every night when I go to bed
I'll sleep as much as I can but won't get a rest
You've been a bee in head, I will never forget
You wanted peace for us when you were a kid, that was so kind
Uncle uncle , I drink your words, just as much as I can
You're my bard, my prince, my little butterfly
Sometimes I get too enthusiastic, I know I say things when I shouldn't speak
Oh please don't say that! I need you Patrick
Why don't you leave me your number Daddy?
I won't let an other uncle leave me all alone
I said I won't let an other uncle leave me all alone
I said that I said I won't let an other uncle leave me all alone again
you're running sauwzé... you're running fast!
Henry who's that man?
There, dancing so wild
Feels like, this already happened to me
I'm attracted but blind
Reflected in my eyes
His two big metal teeth don't let me see
It's Sauzé Sawzé
He's wonderful and French!
He's twisting!
You're twisting wild, Sawzé!
He's got the little smile,
of the ones who know all kinds,
of things we'll never never never never know!
He's got that holy "Gourmette"
The silver chain on his stump
He calls it "gourmette Sacrée"
King of the twist sir lord Sawzé
I feel wrong but strong
Everything belongs
to that mechanical thing here we can see
The twist is the key
I'll get on the floor
to know about Sawzé just a bit more
He is the father of my soul
Just say a word
and I'll be forever yours
your servant my Lord
Henry can't you see?
He is fake like a rake!
Just look how he spinning on his toes
a a haaaaa
a a haaaaa
a a haaaaa
a a haaaaa
I feel wild and light
anything but blind
I'm not anymore in touch with rules anymore
I want to shake like a jelly
To shift like I'm cheeky
To whistle like a little canary
He wants to kill the band
He shakes so fast Sawzé
Shake shake shake shake it!
I am open to get what you want now
I feel the holy "Gourmette"
Trapping my eyes in the silver chain
I mean the "gourmette Sacrée"
Brightening my right side as with Sawzé
I feel strong and delicious
Tasty as a pie
Now is the time for me to be the one
I'll make you limp Sauzé
I'll shake your head Sawzé I'll be the
new Banana Jojo on the floor
I want to live in your
tight dark pocket
Let me be a hanky
for you Sawzé
Henry, leave that man
It wasn't the right one
And… look how I'm spinning on my toes!
a a haaaaa
a a haaaaa
a a haaaaa
a a haaaaa

les goûtes tombent lourdes
et se perdent dans la brume
sur le cœur
sur le foie
L'odeur de la poudre crépitante, mais il ne peut la sentir

I wanted to go to bedroom
but went to the wrong floor
I crossed a little hall
and found a door
It was locked so I looked through the little window
and I saw him, so elegant
with a smile he looked at me
and then he said
"why don't you come near me?
I'll show you how things could be
the door is open now
come to know your future and your past"
and I opened the door
I was toothy, petrified
He chewed a little ham
with a hammer in his hand
It's a dangerous game, you could die or be born and get brighter than a firefly
Are you sure you want to know?
For the rest of your life
He gave me a white page
and said: read it maestro
Words came to my mind:
"Dump your ballast, sink and fly now"
I' m sinking, I'm sinking, I'm sinking down…
I couldn't believe my eyes
I was sinking through the ocean
Naked in the water
Frozen by the sharks
I was down, it was dark really cold, I was sure that I wouldn't breath any more
I chewed the little ham
Taken from his sleeve
I breathed anew
Born on a new sign
I had to reach
the ultimate depths of the ocean
A light still shining, on the wrong floor
An old man is waiting to reverse time
Playing chess with pawns that look so much
like you and me and him sinking
I met your dad, I met your mom, I met your brothers and sisters,
I met your uncles, aunts and pets I even met your cousin Pete, the one who:
Isn't like everybody!
I met bigdada, big mama, I met the Queen, I met the King
I met Silvio your aunts'cousin, and you know what he said to me:
Now you're nearly a member of the family!
I can feel a light in every mind when I talk
I even met uncle Henry who thinks he is Davy Crockey
I met the kids: Mathew, Branson, Hugo, Vishnu also a man called Sawzé:
"The owner of the barbecue"
I met Jenna that your uncle call Johnny, I met the twins, I heard their hymns
I met Jeffrey, Audrey, Sony, Beny, Krusty, Fifi, Crockey, Oh...:
I already said I met Crockey!
I can feel a light in every mind when I talk….
I met tata papa mama dada rata kapa çana lala chacha obla mutra vla vla cra cra hark hark
your uncle Wallace, such a funny man,
I wish I had more time to speak with him
I met aunt Rebecca with her lovely poodle
I met Patty, with her black man, the world is a village, I met Suzy she seems pregnant again, "How will she feed all those folks?" said Jeffrey
I can feel a light in every mind when I talk
Yes as Grand Pa Heribert said, the "mexican food" is excellent tonight.

We are all really excited today.
It is my birthday
We bought millions of beers
We bought millions of cocolulupipipapa
Didoudididoudouda
I'm in a rush now,
my friends will be here in a minute.
I bought those wet sausages.
I bought those "Belgian canapé"
Did you hear?
Someone is trying to tell us something
A friend is ringing at the door!
Sorry we'll have to speak later.
A friend is ringing at the door!
It's good to see you Mathew!
A friend is ringing at the door!
Paul you brought sausages too!
A friend is ringing at the door!
Sarah! Oh hello Suzuku!
A friend is ringing at the door!
Henry! I can't believe it's true!
There could be millions here tonight!
I really wouldn't be surprised.
Probably in this sort of situation,
other people would say to their guests things like:
"Why are you here enjoying a party?"
"Who are you here for?"
"What will you talk about for the next couple of weeks?
But I won't play that sort of game.
Ok, let's slow down a little bit.
"The house is packed with your love"
So it's fireworks time now
"Everybody bring a cocolulupipipapa cocktail and come to the garden with me!"
Everybody, lift up your glass in the sky and
Cheers!
As the day is going out and the moon is watching the sky
Alone in the square is walking a man
He sits down near the river looks at the castle and cries
I don't feel at my best watching this man
Poor Little Wallace
lonesome cowboy, with a frozen soul
Oh Poor Little Wallace
lying on the cold wet and silent grass
You don't have any heart?
Hey! you don't have any heart or what?
You pretend to be the ones who know
But you don't know anything at all
Sure, he is different! A bit strange, that's right
but he isn't as crazy as you say
And tell me, what gives you the right?
It is true I agreed to give him a lesson
I thought he could learn something
but that's enough now we've gone too fare
oh lord what have we done!
Poor Little Wallace
fishes cry, for you
Oh Poor Little Wallace
the ground is red near the piece of glass
You don't have any heart!
Hey! you don't have any heart or what?
You pretend to be the ones who know
But you don't know anything
at all
and I look at the window
trying to think about rain
I'm not one of them you know,
and don't have to be blamed
Why you and not me?
Wrong place wrong time my friend
No one wants to hurt you anymore
you could join us again
but you're in a better place now ,
far from our violence
Poor little Wallace
I'll write hero on the grass
Ho Poor little Wallace
we chose the wrong one
you chose the wrong one
You don't have any heart?
at all

We don't like the way the world is going
We're singing butterflies in the hands of those
Vikings
I always wonder why, love and pie is not the scream cose anytime we fly we find new dishes for the stream
they say:
It's an insalubrious rock and roll
insalubrious, yes I know….
We might be old-fashion, but at least there is a soul
or whatever it is, we let the good earth roll. no?
Ok then, welcome to the funeral of Rock and roll
Call mom and tell her I'll be late tonight
Call Mary Lou, and tell her she won't chacha nomore!
Give me something to wake up for now
I think I'm going off my rocker
Ok, I'll kill you tonight, you old insalubrious rock and roll